Oak Design Furniture - 21/01/2018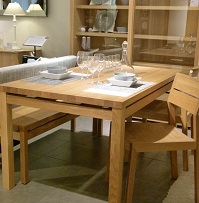 The French oak means furniture of character, French high quality and Tradition. It is used for contemporary furniture as for period furniture.
The oak supplied by EUROCHENE, from the forests of Bourgogne and Franche-Comté, has got a light colour and fine texture. It can also be easily stained for modern indoors.

The EUROCHENE sawmill provides to you QB 1b (Character grade) boules and selected unedged boards, with a moisture content KD at 10% +/-2, to ensure a good implementation during the wood processing and furniture making.