French oak in lamoura (France) - 27/09/2019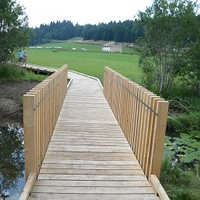 Dimensional stocks sawn from dried boards, of specific width and length on request LAMOURA village in Jura decided to showcase the charming scenery of the lake, creating an ecological walk in natural oak for pedestrians, bicycles and a fitness trail.
The work carried out by the oak sawmill Eurochêne implements quality oak beams Q- P1A , sawn from selected oak boards Q- B1b and square-edged oak- Grade Q-F1,Q-F 2/3, manufactured from selected fresh sawn strips.
This path uses natural and healthy products to the public, in harmony with nature, ecology.