The sawmill Eurochêne honoured - 02/04/2016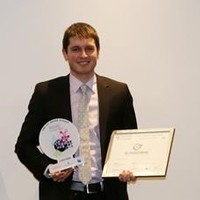 The chamber of commerce and industry of the Jura has distinguished company Eurochêne and was awarded the trophy at the international , rewarding performance in foreign markets .
The Eurochêne sawmill sells dried products : boules, sawn timber, oak planks, dimensional stocks sawn from dried boards, of specific width and length on request, in 50 different countries worldwide. 60% of its HVAC is achieved abroad , thanks to extensive work of prospecting. Felix JULIEN, heavily involved in the marketing team received the trophy.