Eurochene: a national Prize and not the least: the Region Auvergne Rhône Alpes Prize - 30/11/2016
It is a very first! Oak in outdoor design.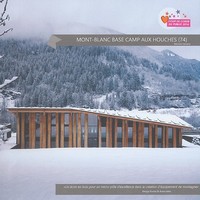 The realization of a building presenting a sun shield made of unedged boards in oak, with bark, in big lengths and widths, received the national and the regional prize of the wooden construction, especially rewarded with public recognition.
First the architect selected French oak logs and then oak logs were sawn in oak boules or oak selected boards. The building includes boards of 9m long and 70cm wide. It resists to any extreme weather condition in this mountains region and presents incomparable esthetics.